What is the Novena?
The Novena to "Mary Who Unties Knots" is a prayer booklet written by Father Celeiro, an Argentine priest, approved by the Catholic Church (Nihil Obstat and Imprimatur of the Archbishop of Paris). It allows us to entrust over a 9-day period a particular sorrow to Mary, the mother of Jesus, while meditating on the rosary and contemplating the painting by the same name. These are not magic formulas but the confident call of a person in need, to One that can obtain everything from God.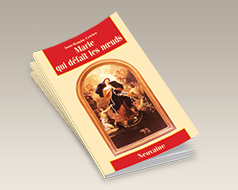 Novenas: a tradition in the Church
Novenas are a tradition of the Catholic Church. They consist in praying for 9 consecutive days for a particular intention. There are novenas for a multitude of causes.
This tradition dates back to the early Christians who were following the example of Jesus' disciples, who had gathered in the Upper Room between the time of Jesus' Ascension to heaven until Pentecost, when God sent the Holy Spirit in the world.
Nine days elapsed during which "all devoted themselves to prayer, with the women and Mary the mother of Jesus" (Acts of the Apostles 1:14).
Testimonials in the history of the Church show that God is touched by novenas, especially those addressed to Mary. God then grants many graces, of reconciliation, healing, financial solutions, employment, housing, etc. These graces are also spiritual because the first goal of prayer is the conversion of hearts.
"What you ask in faith through prayer, you will receive" (Gospel of Jesus Christ according to St Matthew 21:22).
Composition of the Novena to Mary Who Unties Knots
The Novena to "Mary Who Unties Knots" is a true act of faith, abandonment and hope. Its inspiration came from the now-famous painting by Johann Melchior Schmidtner faithfully reproduced in the booklet.
It consists of 11 prayers, namely one prayer/meditation for each of the nine days, plus a petition and a "central" prayer. These prayers accompany the meditation of the rosary which focuses on key moments (called mysteries) of the life of Jesus and Mary. Surprisingly, there is always a link between the « knot » for which we pray and the particular mystery we meditate on.