The author : an attentive priest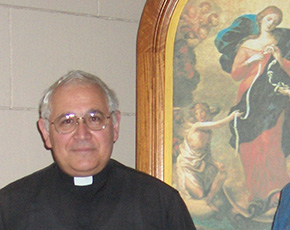 Father Juan Ramón Celeiro, is the author of the Novena to Mary Who Unties Knots. It was he who, in 1997, gave its current form to the growing devotion to that image of the Virgin Mary. He then entrusted the exclusive distribution of the Novena worldwide (1) to Editions du Gingko. Fr. Celeiro continues to witness about the devotion everywhere.
A priest attentive to others
"I want to be good no matter what, always, and with all": At his priestly ordination in 1977, Father Celeiro was inspired by the spirituality of Pope John XXIII. Moved by the fervor of his parishioners toward the painting of Mary Who Unties Knots that he had installed, at their request, in his church, he decided to contribute by putting into words the outpouring of their heart toward Mary. This novena, which is accessible to all, was ready for an extraordinary dissemination around the world!
Father Celeiro is still impressed by the number of people, often very far from the Church, who come lay their burdens at the foot of the painting. This image of Mary Who Unties Knots reminds us that hope rests in the hands of Mary, who can do everything with the Lord. Assisted by the angels, she really wants to make a difference in our lives.
Father Celeiro has a wide range of talents. He is:
Pastor of San Juan Bautista church, in a suburb of Buenos Aires, Argentina
Consultant for a Mothers' League
Spiritual Advisor of the Apostles of Divine Mercy
Director of a patronage of about one thousand youth
University professor and professor at several teachers' training institutes
Promoter of the construction of several churches and religious buildings in Buenos Aires
1 Outside Hispanic Latin America
THE ROLE OF POPE FRANCIS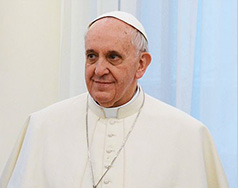 Pope Francis encouraged the devotion to the image of Mary Who Unties Knots by bringing back from his studies in Germany some copies of the painting.
Since then, he has regularly mentioned Mary, who accompanies us on our life journey.
The Novena to Mary Who