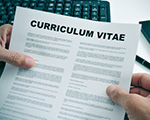 Employment, education

In these economically troubled times, our future depends on having a job. Confiding our worries to Mary is to include her in our daily lives.
Maria – 09/08/2017
I did pray the novena which my father gave me when they visited us the same week to ask for a good employment of my son. He was called for exam and initial interview and only 3 of them out of 12 were told to come again for final interview. And I am fervently pray that Mary who unties the knots will continue on helping him to pass and be hired. Thank you very much Mama Mary for listening to our prayers. You never ceases to love us.
Marie-France – 05/04/2016
Sometime this year I did the novena for my grandson Vincent to pass the baccalaureate exam. I\\\\\\\'ve started another one and when I was reciting the first decade of the rosary, we received an email telling us he was admitted in a highly selective university. Thank you Mary from the bottom of my heart for this grace …
Marie Therese – 15/03/2016
My first grandson is going into the 6th grade. His parents chose a Catholic school for him. Several preliminary interviews took place at registration and it didn't go well. I must say that there are less spots than there are applicants. A combination of unfortunate circumstances also made admission difficult because the children were unfortunately not baptized … So I prayed the novena and waited. We soon received a phone call… there was laughter, great emotion, and cheers. My grandson was admitted! Thank you, thank you, thank you to Mary, to all of heaven, who listened and answered our prayers …
A.M. – 08/08/2015
I would like to share the grace I obtained through the Virgin Mary by this novena. First of all, I was selected in a competition where hundreds of other candidates tried to get in a highly reputed school. And I received my degree, which enabled me to follow my calling.\r\n
B. – 23/02/2015
I again asked Mary to break a big knot for my journalist grandson who was at wits' end after 3 years without a job. The next day after I finished my novena, he announced that he had found a job close to his house.
C – 19/02/2015
My brother had been looking for work for 3 years. The day that I started the novena, he got a call from a recruitment agency, and the interview took place on the last day of the novena. I continued to pray and two days later, my brother had a job!
Suzanne – 01/09/2014
My daughter had a lot of anxiety before taking the baccalaureate exam. I began a novena : all went well, she passed it cum laude. Mary who unties knots answered my prayer.
Josette – 30/07/2014
I prayed a novena for my daughter whom I felt was very unhappy at work, and suddenly her prospects opened up. She was able to find a new direction and miraculously all the problems are now starting to disappear one by one.
Olivier – 27/07/2014
I finished my novena to Mary Who Unties Knots, and on the same day, I got a job interview! As a father of young children, I had been unemployed for a long time and I had prayed for help. Through her intercession, Mary granted me an encouraging step forward.
FATHER JUAN-RAMÓN CELEIRO CLOSE-UP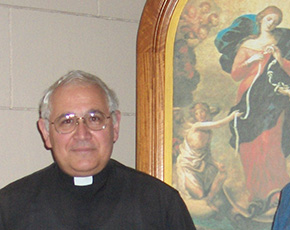 Father Celeiro is pastor of San Juan Bautista parish in Buenos Aires, Argentina.
He wrote the Novena in 1997 for all those who want to place their problems in the hands of Mary.
Learn more
---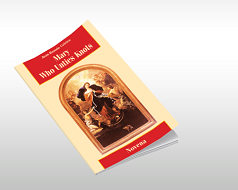 Order the booklet
---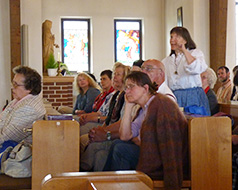 Read the testimonials