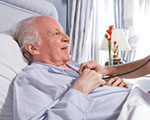 Health
Many healings, often inexplicable from a scientific standpoint, are expressed here with gratitude.
Elisabeth – 30/09/2015
I had been diagnosed with cancer. I had hardly started praying the novena to Mary, that my specialist called me to tell me the tests came back negative. I am sharing this testimonial to encourage others. I remain in union of prayer with all those who suffer.
J. – 30/09/2015
It had been years that I knew I could not have children because my tubes were blocked. I started the novena and some time later, I learned that I was pregnant !