The Novena : What is it for? Who is it for?
The Novena to Mary Who Unties Knots, written by Father Celeiro, is for all those who, one day, out of suffering, cry out their distress to heaven. It allows them to entrust to the Mother of Jesus, all sorts of difficulties, all kinds of knots: anxiety, debt, job search, housing search, exams, illness, pain, abortion, divorce, breakup, alcoholism, drugs, stress, depression … and all kinds of material, family, school, professional and spiritual difficulties.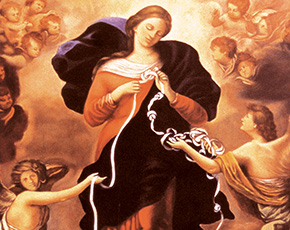 Regardless of age, condition, origin … the concept of "knots in our life" is a reality for everyone.
Who can say that they are free of them?
Do we have to believe in God? Or be a practicing Catholic?
Not necessarily. There is always a time in our life when we feel powerless to get out of a challenging situation, and need the help of someone bigger and stronger than us.
It is a step of surrendering and trust.
Why Mary?
Mary, the mother of Jesus, is the mother figure par excellence: she is all tenderness; she has a listening ear and a helping hand.
Why this painting?
What better explanation than the one Pope Francis gave when he was Archbishop of Buenos Aires: "It is the image of our Mother who helps us everyday on the paths of life. She comes to our help, takes care of us, shows us Jesus, leads us to Jesus. We present our problems to her, our "knots", especially those that affect our family Christian life. And we know that her maternal and loving hands, full of tenderness, care for us " (Jorge Bergoglio, SJ – Homily of Aug. 15, 1999).
Can we pray for someone else?
Yes, we can! Whether the other person is aware of it or not doesn't matter. When we pray for someone who is dear to us, we share their pain and make their « knot » ours. This action is one of love
Can we entrust all our problems and worries?
Yes, but it is best to make a separate novena for each « knot ». In this way we are able to notice improvements and outcomes.
It is also helpful to state in exact words the particular problem that plagues us. During the Novena, we explicitly mention the « knot » in question every day.
How do I know if those prayers are intented for my unique problem?
The prayers composed by Father Celeiro list all the difficulties that ail human beings, disorders that are both internal and external. Those find an echo in everyone's life.
The recitation of the Rosary shows that when we ponder the episodes of the life of Jesus and Mary, we can see how close they are to our own experience. This is why the prayer of the Rosary is the type of prayer most used by Catholics. It is universal in its scope and use. It is a bridge between God and us.
What if I missed a day, or one of the prayers?
Mary is above all a mother, and she first looks at the intention. When we pray a novena, we don't do it in a calculated, formulaic way, or think of it as magic formula.
Nine days is a long time…what if my prayers are not answered?
Yes, 9 days is a long time but it is a time when the difficulty, the nagging concern that asphyxiates you, is given a name, is put under the light and seen from every angle, while being kept at a distance because it is entrusted to Mary. These are 9 days of release, relief, and healing. The fruits are not necessarily immediate, and they are not necessarily those we expected. Mary does not always unravel the knot we present to her, but she will help us to identify it, name it, and see it under a different light as we go through the meditations of the 9 days. Finally, through the novena, she might show us how to untie it ourselves.